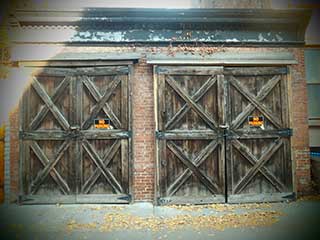 Many homes today have an attached garage, which means that if cold or hot air can escape through its door, your HVAC unit will have a much harder time maintaining your indoor temperature. During the harsh winter months, a garage that isn't properly weatherproofed can result in a colder house, which in turn can cost you a lot of money, due to the fact that your AC unit will be working overtime to try and keep your home warm. This type of problem can come into effect even during the hot summer month, by letting hot air from outside find its way into your home and making it much harder to preserve the cool temperature you undoubtedly desire.
Check For Gaps And Seal Them
You may examine your garage door and think everything is fine. That could be true, but have you checked around the exterior of your door for gaps? These do not need to be clearly visible to you result in heat loss, so check around your entire door and frame and seal any gap you discover, however tiny. When you finish, check the door frame again and make sure you haven't missed anything.
Get a Door That's Properly Insulating
If your existing garage door has seen better days and you're looking to get a new one, you should make sure the new model offers sufficient insulation. While it is possible to insulate an existing garage door, it's far better to get one that' insulated from the start. The R-value indicates how insulating a door is going to be, so be sure to go for one with a value that's as high as possible.
Don't Overlook The Weather Seals
Your garage door may have rubber seals at its bottom and sides that effectively prevent harsh weather from getting inside. If it doesn't have this weather-stripping material, it'd be worth your while to get these seals installed. Regardless, over time, these weather seals can become brittle and pieces of rubber can flake off, allowing precious heat to escape and rain or snow to get in. You should get your seals replaced as soon as you find their condition to be getting worse for wear. To test them, turn the light off inside your garage and then close the door to ensure complete darkness. If you see any pinpricks of sunlight coming through the seals, you need to have them replaced.
Your Car Will Thank You Too
A garage with a consistently pleasant temperature is always going to be kinder to your car and any other stored belongings you keep inside it. It will also be so much more comfortable for you to get into your garage when you leave for work on a chilly winter morning. After all, no one wants to go from a cozy home into a deep freezer.