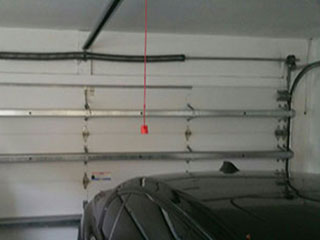 One of the most important parts of your garage door system are the springs. Their primary role is to support the weight of the panels and assist in the movement of the door. They do this by providing the system with tension based force, which also makes them incredibly dangerous when something goes wrong. To avoid getting hurt by these components, give our experts a call as soon as you notice a problem.
The Two Main Types
There are two main types of garage door springs that are commonly used today. They are categorized according to the way they work, which is via torsion or extension. Extension springs come in pairs, and are installed on either side of the door. They are smaller, and more dangerous, which is why they are often attached with safety cables to anchor them in place. Torsion units are installed horizontally above the door. They are stronger and much more flexible, which is why a lot of times only a single unit is required. Both types can be very dangerous, though, so you should never try to perform the spring replacement job by yourself.
Regular Maintenance Requirements
Torsion springs will last for a lot longer than their extension based counterparts, as long as they receive the proper amount of maintenance. This involves regular lubrication, and the occasional tension adjustment. Good spring maintenance will prolong the life of your garage door and its various parts, since during an unexpected breakdown other components tend to get damaged as well.
Caution Is Key
Worn garage door springs are a recipe for potential disaster. If these components snap, they can become a projectile that can seriously damage or injury anything in its path. Not only that, but if your door is open when that happens, it will most likely slam shut as a result of the unexpected breakdown. Remember, dealing with a broken spring is still very dangerous, so you should always prefer to call a professional. Someone, say, like our team.
Ready and Willing To Help
Don't take any needless risks. Contact our experts at Garage Door Repair Lewisville and let us take care of any spring related problem you're dealing with.
But wait, there's more! We also offer:
Broken Garage Door Track Repair
Door Opener Troubleshooting Services
Broken Garage Door Spring Replacement
Maintenance Garage Door Torsion Spring