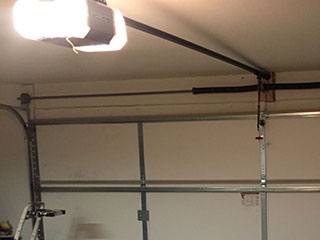 There's no part of your garage door system that's more intelligent than the opener. This complicated piece of equipment is connected to many other electrical and mechanical components, and needs to work in sync with the rest of the system. There are a number of faults that an opener can develop over time, from faulty circuit boards to broken drive gears. Fortunately, our technicians know how to quickly fix each problem.
Repairing Your Malfunctioning Opener
An opener can malfunction for a number of different reasons. Because the mechanism is so complicated, it can often be hard to work out exactly what's gone wrong - is it a problem with the safety sensors or the unit itself? Should you look for a break in the wiring, or are the limit switches incorrectly set? Our team has many years of experience working with openers of all makes and manufacturers; they've encountered every issue there is! You can rely on us to identify the problem and provide an efficient and enduring repair.
Maintaining Your Existing Unit
The working life of your opener system depends on how well it's looked after. One that's regularly lubricated and checked for damage has more chance of functioning well for its full life span, while one that's neglected may be more susceptible to faults. Our team offers expert maintenance services – we can apply lubrication to the drive gears, adjust the safety sensors and inspect the entire system for signs of wear or corrosion. Our team usually brings replacement parts with them to every job, so if a part needs to be swapped out, it can usually be sorted on the spot.
Installing A New Opener
In addition to fixing and maintaining your existing unit, our technicians can also install a new unit for you. A new opener has the potential to bring increased security and convenience to your home however we strongly recommend contacting our team for guidance when it comes to choosing the right unit for your home. We only work with trusted brands like Chamberlain, LiftMaster and Genie to ensure any unit you opt for is likely to be safe and durable.
Arrange An Appointment With Our Team
For help dealing with opener malfunctions, or for maintenance and installation services, our technicians at Garage Door Repair Lewisville are the ones to call. Contact us today to find out how we can help you.
We also offer:
Garage Door Troubleshooting Services
Garage Door Torsion Spring Replacement