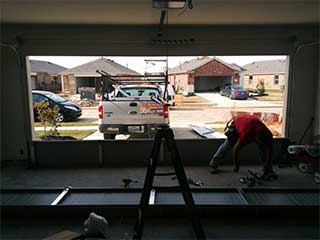 With regular upkeep, your garage door system can last for a lot longer than what you may expect it to. Every complex mechanical system needs to be properly serviced on an annual basis to ensure that all of its different components are in great working condition. Our professional technicians will check everything from the panels to the springs, and ensure that no part of the system is too worse for wear.
The Exterior Matters
Your garage door says a lot about your house, and is a major contributing factor when it comes to presenting an interesting curb appeal. If the door panels aren't looking great, though, then the visual value of your house will certainly decrease. To prevent that, and to preserve their condition, our technician will check them for rust, dents, rot and warping, depending on the material they are made of, of course. We will repair any cracks or defects we find on the spot, and – if it is called for- replace entire panels with new matching ones.
A Few Safety Tests
Your opener needs to be inspected regularly as well, as it is the engine and the 'brains' of the entire system. Its circuit board and motor must be in great condition to function problem free, which is why they need to be checked for and fraying or wear. Also, the safety sensors, which are the photoelectric eyes that the opener uses to detect obstacles, must be tested to ensure that the door properly reverses when something is blocking its decent. Our technicians will do all that, and realign the sensors if needed, or replace them completely.
Last But Not Least
Torsion springs also require some additional attention, due to the fact that they suffer from friction-based wear and tear. Our experts will lubricate them, as well as the steel rollers and hinges, to ensure the smooth and silent movement of the door. Spring adjustment may be required as well, if the door is getting unbalanced. Since this is a dangerous task to perform by yourself, you'll definitely want to leave it up to our team.
Our Experts Are Here For You
Give Garage Door Repair Lewisville a call today and let our specialists make sure that your door is in great working condition.
Looking for more? We also offer:
Garage Door Off Track Repair
Opener Sensor Repair & Replacement
Galvanized Torsion Spring Installation