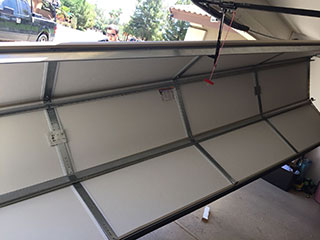 A broken garage door shouldn't have to cause you frustration and worry. After all, it's natural that the repeated opening and closing of your door will eventually take its toll. When you need a helping hand to get your garage door fixed, our experts are here to help. We've built our business on a high standard of work and we have a reputation for delivering outstanding customer service. Our skilled and friendly staff are ready to take your call and offer assistance to resolve some of the most common garage door problems that homeowners experience.
Dealing With Cable Issues
It's not unusual for the cable to unravel from the drum that houses it, or to snap completely due to wear-and-tear. More often, this happens on only one side of your garage door, causing it to close unevenly. It may look as if fixing this issue by yourself is a piece of cake, but don't be misled. Garage doors are heavy and you could hurt yourself - it's better to call a professional. What's more, a snapped cable could also be a signal of a more serious problem, like a worn extension or torsion spring. We offer skilled repairs and replacements of garage door cables at an affordable price so you can get your garage door functioning again as quickly as possible.
Emergencies & Spring Replacement
There are a number of things that might cause your garage door springs to snap but the main culprits are natural deterioration from use and rust. The reality is that all these parts have a lifespan and won't work optimally forever. Whether your garage uses a torsion or extension spring mechanism, we can perform any adjustments needed or replace the damaged parts. When your spring snaps completely, you'll likely be after assistance urgently - in these cases, count on our emergency and fast response services to get to you as soon as possible.
Professional Opener Troubleshooting
If your garage door just simply won't respond properly but you're struggling to identify the precise problem, it could be that there is a fault with the opener. We can undertake full troubleshooting services to get to the root of the problem. If you're looking for a new unit, we can help you choose the right one for you - we're experienced when it comes to the replacement of a broad range of garage door remote controls, including leading brands as Genie, Liftmaster, and Sears among others.
Whatever your repair need, contact our team in Lewisville today - we're here to help!
In addition, we offer:
New Garage Door Installation
Oil Tempered Torsion Springs
Belt Drive Garage Door Openers
Part Replacement & Lubrication